Wir verwenden Cookies, um unsere Webseite für Sie möglichst benutzerfreundlich zu gestalten.
Wenn Sie fortfahren, nehmen wir an, dass Sie mit der Verwendung von Cookies auf unserer Webseite einverstanden sind.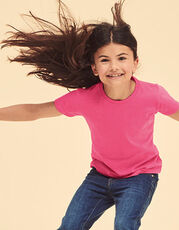 Einzelpreis
3,26 €
inkl. 20% MwSt.
Lagerstand: 6787 Stk.
Girls Valueweight T
ab EUR 1,83 € inkl. MwSt.
Produktnr.: F288K
Rundhalsausschnitt mit Baumwolle/Lycra® Ripp , Gleichfarbiges Nackenband , Leicht tailliert , Höhere Maschendichte für verbesserte Bedruckbarkeit , ValueweightTs
Pfad:
Übersicht
/
Kinderbekleidung
/
Kinder T-Shirts & Polos
Hersteller:
Fruit of the Loom
Grammatur:
150-169 g/m²
Konsistenz:
100% Baumwolle (Heather Grey: 97% Baumwolle / 3% Polyester), (Vintage Heather Navy, Retro Heather Royal, Retro Heather Green, Vintage Heather Red, Dark Heather Grey: 50% Baumwolle / 50% Polyester)
Größen: 104 - 164
Wählen Sie Ihre Farbe
Preisstaffel
inkl.
|
exkl.
MwSt
| | | | | | | | | |
| --- | --- | --- | --- | --- | --- | --- | --- | --- |
| Farbe | Größe | ab 1 | ab 10 | ab 20 | ab 50 | ab 100 | ab 500 | ab 1000 |
| colors | 104 - 164 | 4,25 € | 4,01 € | 3,35 € | 3,17 € | 2,66 € | 2,48 € | 2,40 € |
| White | 104 - 164 | 3,25 € | 3,08 € | 2,57 € | 2,42 € | 2,03 € | 1,90 € | 1,84 € |
© 2019 Textilhandel-Wien.at | Bestell und Infohotline: 0043 720 371 223